Stop issues before they get too far!
Informed by Pathologists
TriMetis Computer Assisted Pathology (TCAP) Pre-analytical Ai takes on issues before they become problems.
Technicians and Pathologists are in low abundance and in high-demand. Checking every slide for folds, marker, stain quality, and other issues can save significant time and money that accumulates downstream. But there is not enough technical personnel to go around.
Computer analysis can pick-up the workload. TriMetis Pre-Analytical Ai's can detect a problem before it becomes costly.
Human and Animal slides:
Pre-Analytical Slide QC - Check slides before they go to the pathologist/veterinary pathologist
Tissue Quality - before diagnostic and molecular profile processing, check the tissues for sufficient content and tumor purity.
Trained by Board Certified Pathologists, TCAP applications to do the dirty work, enabling Pathologists to focus on the most important activities.
Easily deployed, TCAP Quality Control Ai Applications increase throughput and informs decisions.
Slide Quality
Know before you go
If your H&E slide is from a poorly fixed FFPE block or there were errors in the slide making process, then everything after can be affected.
Identifying the root cause before the materials make it to the pathologist, saves time, money, and headache.
Identify:
Folds, glue, and marker
Poor fixation and picnosis
Low stain quality
Nuclei Count
Estimation vs. Actual
Counting Nuclei is a very mundane task. It would take a day to annotate tumor nuclei in a biopsy, and even longer in a surgical resection.
This is a very poor use of highly-trained, high-cost board certified pathologists.
In minutes deliver:
98% accurate identifying and counting tumor nuclei
Quantitative and Qualitative Data
Annotated images available via Viewer
IHC Stain Quality
Not all IHC Stains are made equal.
Immunohistochemical staining of tissue slides is a powerful tool that can provide pathologists and clinicians great insight for diagnosis, prognosis, and treatment.
However, not all IHC Stains are created equal.
Fixation, IHC Staining Quality, Image Quality all play a role.
Errors due to fixation constitute up to 20% of failures.
Poor Image quality errors lead to longer turn-around time.
Nordic Immunohistochemical Quality Control (NordiQC) found an error rate in staining of almost 30% in labs participating in their study.1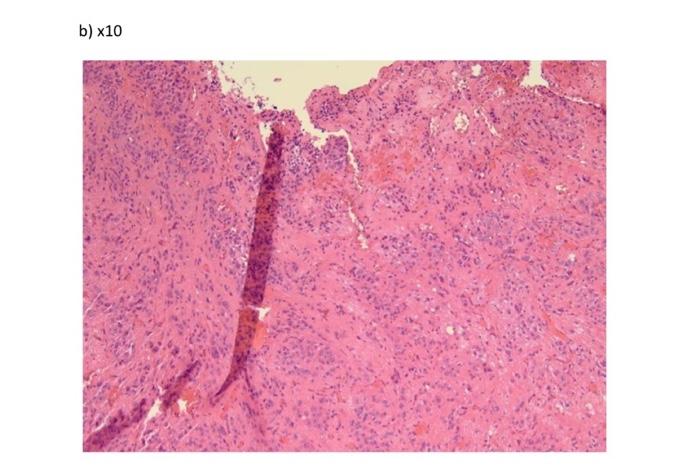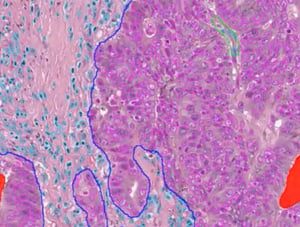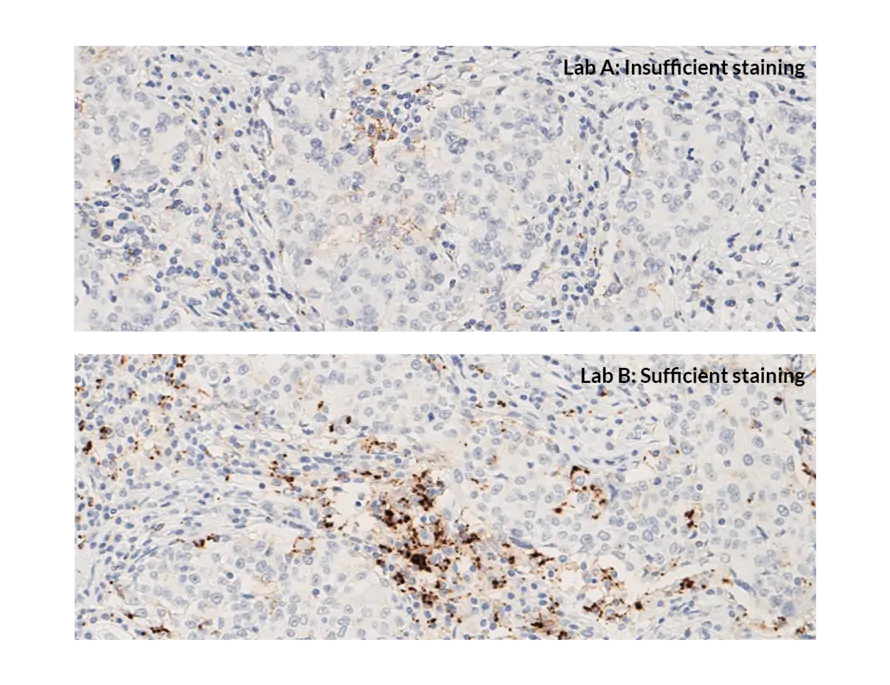 References:
1. Nielsen, S. External quality assessment for immunohistochemistry: Experiences from NordiQC. Biotech. Histochem. 90, 331–340 (2015)